The challenge as we see it
Comprised of complex infrastructure, operating an energy plant optimally is a specialized task, requiring the skills of a range of utility and technical experts.  The proper operation and maintenance (O&M) of energy infrastructure at a building, campus or industrial facility is critical to maintaining reliability and maximizing economic, technical and environmental performance.
---
Our differentiated value 
Veolia is one of the largest operators of combined heat and power systems, district energy systems, central utility plants and HVAC systems globally and across North America.  As a third-party operations partner, we help facility owners and operators maximize operational efficiency and reliability, enabling our customers to focus internal resources on core business activities.
Access to both trained operators and technical experts
Cost savings and efficiency through operational excellence
Guaranteed uptime and reliability while reducing operational risk
Track record of performance in mission critical environments
Elite safety record and investment in safety training programs
Robust continuous commissioning and maintenance programs
Expertise in both power and thermal energy assets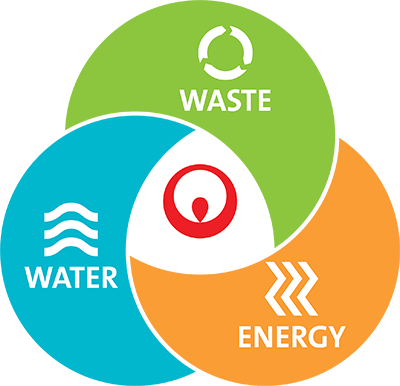 Veolia is uniquely positioned to service industry, government and commercial entities in improving performance, managing water, waste and energy.
The global and North American leader in complex power and thermal energy plant operations.
---
Our solutions for energy plant operations & maintenance
By leveraging a life-cycle approach, combined with a thorough preventive maintenance program, Veolia is delivering operational savings, peak efficiencies and emission reductions for several leading universities and colleges, hospitals, commercial properties and industrial clients across the country.
Energy plant operations & maintenance approach:  
 
We've developed an optimal strategy for enhancing the economic and technical performance of complex equipment using a life-cycle approach—a systematic program of diagnostic testing, inspections, overhauls, repairs, and upgrades.
When equipment is maintained with a life-cycle analysis perspective, energy usage is optimized, and both operating and capital costs are ultimately minimized. Through these operational excellence programs we can improve facility economics by 15-20% on average. 
Our diligent approach to on-site operations and maintenance is designed to maximize peak efficiency, minimize the risk of equipment failure and ensure a tight control range.
Examples of energy plants and systems we operate & maintain:
 
Cogeneration / Combined heat & power (CHP) Plants
Chiller plants
Boiler plants
Air handler units (AHUs)
Cooling towers
Ice storage plants
Battery storage systems
Solar PV systems
Power and thermal distribution systems
Biomass facilities
Anaerobic digesters
We own, operate and manage complex energy operations, providing sustainable and reliable energy infrastructure to more than 50,000 businesses.
---
Benefits for our customers
Our cost-effective energy solutions are focused on efficiency, resiliency and sustainability.
Our waste and regeneration solutions are compliant with strict regulations, cost-effective and focused on environmental management.
We provide our customers clean, safe and resilient water and wastewater operations worldwide.