Recent developments in the Internet of Things (IoT), cloud-based computing, and advanced analytics are making it possible to capture more granular information on buildings, systems, and equipment. Yet, the growing availability of these digital tools requires expert knowledge on how to put data collection to use.
Hubgrade encompasses a wide range of digital solutions for monitoring, evaluating, and optimizing facilities and infrastructure.
Teams of industry experts operate our Hubgrade centers on behalf of municipal, industrial and commercial customers in order to ensure quality data, technology flexibility, and actionable data analysis. By combining real-time data, advanced analytics, and human expertise, Hubgrade creates new opportunities to manage and optimize water, energy, and waste systems.
Combining digitally enabled solutions with human expertise to help "Resource the World."
Smart monitoring services rely on both automated protocols, machine learning,  and the intervention of human operators who harness data and advanced analytics to improve operational processes. Integration of human insight with digital measurements and KPIs collected enables the entire process to significantly optimize the performance of an individual system.
Adopting and developing new skills, while adapting
By collecting data in realtime from our main assets, we visualize, act, and help prevent incidents. We can leverage tools like artificial intelligence and advanced analytics to help guide insightful, impactful business decisions. Moving from descriptive analytics to prescriptive and then to predictive analytics to become more efficient.
Data Powered by human expertise
Based on listening, transparency and trust we build a highly valued experience. Giving customers back data they can understand and act upon.
Dedicated to optimizing the performance of water, energy, and waste facilities
Hubgrade serves local governments, businesses, and manufacturers facing challenges such as:
Performance reporting
Regulatory and environmental compliance
Aging infrastructure
Budgetary constraints
Transparency on resource use with easy access to data
Visibility into sustainability projects
Ensuring the security and safety of employees
Business continuity and stability of operations (anticipating crisis, preventing failures, shutdown, regulatory breaches)
Risk mitigation 
Innovative solutions for tomorrow
Through the data collected and processed in our Hubgrade centers, we're able to serve you by:
Connecting in:
Sustaining a continuous link with the clients to provide access to information and expertise.
Supporting operations:
Accompanying and advising each customer on their operational and strategic challenges.
Improving processes:
Implementing improvements for operational and environmental performance of the client's equipment and infrastructure.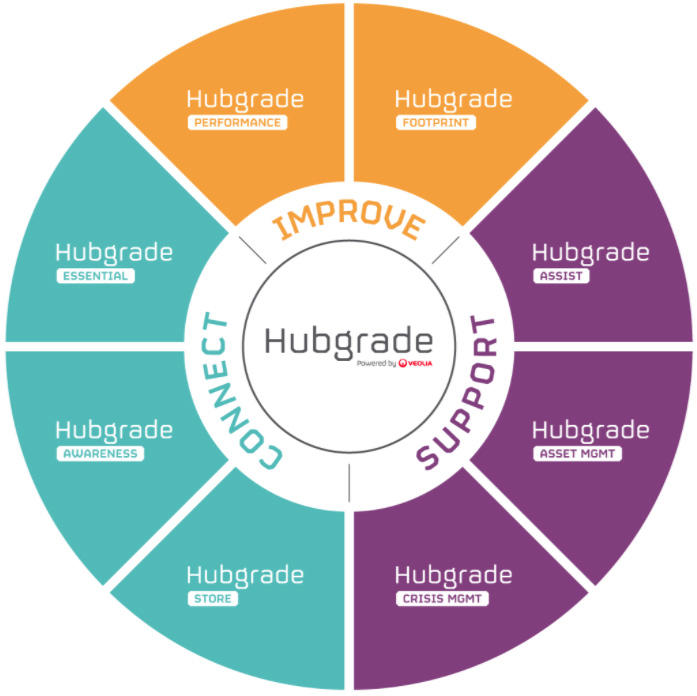 Beyond IoT and more than data management: Hubgrade = digital solutions powered by human expertise.
To date, Veolia has deployed Hubgrade centers in North America, nine European countries including France, Belgium, Ireland, Spain, Sweden and the Netherlands, as well as in the United Arab Emirates and Australia.