COVID-19: in the face of a pandemic
Veolia North America is mobilized to continue providing essential services.
As Veolia North America closely monitors the outbreak of coronavirus (COVID-19), we want to assure you we are committed to the health and safety of our employees, customers and communities in which we conduct business. First and foremost, we are being guided by the recommendations of the World Health Organization (WHO), U.S. Centers for Disease Control and Prevention (CDC), the Occupational Safety and Health Administration (OSHA) and other leading health organizations. We are applying said recommendations to the more than 7,000 Veolia team members across North America who move our network. 
Veolia is dedicated to supporting your critical needs with uninterrupted services utilizing our vast network of resources. We have taken the necessary steps to bolster these resources in response to COVID-19 and will continue to provide business continuity services during this time. In order to do this, we have established a task force that meets daily to assess the situation as it develops, and evaluate our response and safety measures.

Our goals throughout this crisis include:
Protect the health and safety of our employees, customers and communities in which we operate
Provide a safe work environment for all
Ensure business continuity services for our customers, including supply chain, availability of labor, and necessary supplies and equipment
Work with local authorities to ensure that we are compliant and managing risk 
Clear communication with both internal and external audiences
Taking steps to protect health & safety
Veolia's North America zone is supported and connected to a global network of resources in over 50 countries. We are coordinating efforts with our Veolia Group counterparts to deploy best practices during the COVID-19 pandemic.
Leveraging decades of experience from managing responses to health crises such as Ebola Virus Disease and Anthrax, Veolia has established methodologies and strict protocols that have successfully decontaminated sites and reduced risk for customers.
OSHA recently published Guidance on Preparing Workplaces for COVID-19, outlining steps employers can take to help protect their workforce and customers. All of our facility personnel and on-site employees are following the applicable recommendations which include an emphasis on hand washing and sanitizing, social distancing and promptly reporting symptoms to management as they occur. 
At Veolia, we lead safety together, making safe behaviors and work practices a core value of everything we do, from task conception to completion. Eleven of our sites are OSHA Voluntary Protection Program Star-Certified, a mindset that drives management involvement, employee participation and continual improvement.
Our employees, both at Veolia owned and customer locations, are exercising the latest personal protection hygiene practices to ensure their own safety and the safety of our customers when performing vital services at your facilities. This includes:
Education on the virus and sharing resources on how to keep the workplace clean
Encouraging good hygiene practices, including frequent hand washing
Reinforcing hygiene with regular workplace communications and reminders
Sanitizing office spaces and equipment regularly
Diligent monitoring of individual health and seeking medical attention if they develop flu-like symptoms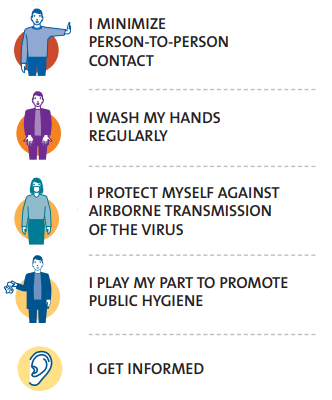 Any team member who reports or displays flu-like symptoms or concerns based upon the below questions will be asked to remain at home:

Do you have a fever?
Do you have one or more respiratory symptoms including: cough, shortness of breath or breathing difficulty?    
To your knowledge, have you had close contact within the past 14 days with a person who has been diagnosed with COVID-19?
Veolia business continuity services and support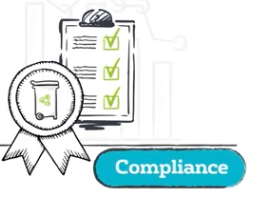 Human Pathogen Management Procedure
Veolia has developed a purpose driven procedure for our Reactive Chemical Group (RCG) to ensure that wastes containing viral and pathogen materials are properly classified, inactivated (if necessary), and packaged for safe transportation and disposal at Veolia waste treatment facilities or audited and approved partners.
Decontamination Operations for COVID-19
To ensure uniformity of decontamination and the proper application of disinfectants to combat COVID-19 contaminated surfaces, Veolia has developed a formal task specific Standard Operation Procedure. All operational personnel have been trained to this SOP delivering consistent and effective outcomes.
Hazardous & Infectious Material Management
Every day Veolia provides safe and regulatory-compliant transportation and destruction of both hazardous and infectious waste. We have industry leading disposal technologies available to ensure that your sensitive materials are properly managed according to all local, state and federal requirements.
Site Decontamination Services
Veolia is providing critical services as disinfection specialists. Our teams will come to your site to perform corrective actions on the environments contaminated with viral pathogens. Using CDC approved methods, we will methodically treat all non-permeable surfaces within the affected areas.  Any untreatable materials will be collected, along with the resulting decontamination supplies, and managed as an infectious substance.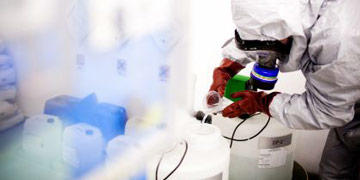 Knowledgeable Staff
Veolia employees are up to date and trained in accordance with the latest CDC and OSHA requirements.  We are continuously updating our crisis measures, response plans, and EHS guidance to be sure we keep pace with the quickly evolving nature of this crisis.   
Business Continuity and Best Practices
An essential role to our customers and the communities where we operate is providing options and resources during challenging times. We are continuously assessing the current situation and available resources within the Veolia network, and adjusting as needed. 
Please contact Veolia to discuss best practices for your site, employees and operational concerns as well as to evaluate the necessary options and actions to ensure business continuity.
Emergency Response
Veolia has a proven track record managing hazardous and infectious material emergency responses of all sizes. We have bolstered our national emergency response program's administrative teams to be available to provide resources in support of our customer's needs. Qualified third-party contractors and existing partners are available to work in conjunction with Veolia which provides increased staffing on evolving decontamination projects.
Please feel free to learn more about Veolia's Emergency Response Plan, and if you have an immediate need, please contact our emergency response line at 800-688-4005.
Veolia's mission is to deliver essential services—drinking water, wastewater treatment, waste management, energy and air quality—on a daily basis. During this period, our mission is even greater. We are fully mobilized to continue to serve you.
Services and capabilities in a challenging time
As part of our nationwide environmental solutions and service, Veolia is prepared to discuss coronavirus (COVID-19) emergency response needs with our customers and suppliers. We have taken the necessary steps to have extensive resources in place to respond, including a highly qualified service partner network.
You can learn more about Veolia's Emergency Response program by contacting your local Account Manager. If you have an immediate need, call our Emergency Response phone number, 800-688-4005.
---
Resources:
Please find the latest news, information and guidance regarding the COVID-19 outbreak via WHO, the CDC and OSHA. These organizations have created resource pages dedicated to providing current information on COVID-19 and the necessary precautions to reduce risk of exposure.
Learn how else were responding by viewing our COVID-19 Resource Hub