Veolia's unique offering provides the opportunity to reuse non-hazardous industrial waste — that might otherwise be landfilled — to engineer a repurposed product.

The challenge as we see it
Many organizations face the challenge of managing end of life materials that have inherent value for which disposal is often the only option. From wind turbine blades to non-recyclable mixed plastics, industrial debris and biogenic materials; the demand for enhanced sustainability and the pursuit of a circular economy have become paramount.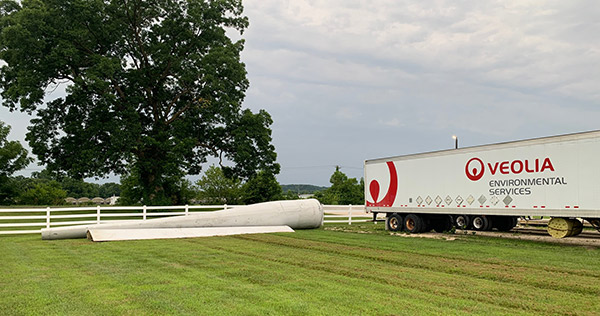 Our differentiated value
Veolia is among the first environmental services and resource management companies to establish innovative and effective methods for addressing complex management and material reuse solutions across multiple sectors such as wind, aerospace, maritime, automotive and construction industries. This enables us to address waste challenges such as:
Composite Materials
Wind Turbine Blades
Single Use Technology Containers
Non-Hazardous Energy Bearing Solid Waste
Industrial Debris & Biogenic Materials
Off-Specification Product Materials
Non-Recyclable Mixed Plastics, Papers, etc.
Packaged in: Dump Trailers, Roll-offs, Drums,
Cubic-Yard Boxes, Pallets, etc.
Our solutions for engineered fuels
Our engineered fuels solutions begin with profiling, assessing, and certifying your company's material. Recyclable material such  as wind  turbine blades are shredded, contaminants are removed and it is blended to create an engineered product ready for transport to outlets such as cement and lime plants where it is utilized as a raw material substitute and to replace fossil fuels to power the manufacturing process. 
Engineered fuels from wind power generation is completely utilized as energy and raw material in the process. Because it contains biogenic carbon, it burns cleaner than coal, thereby reducing greenhouse gas emissions and improving the environment.
Other materials are evaluated based on their characteristics for use as product substitutes whenever possible.  Services available:
Waste profiling and approval
Waste tracking system
Recyclable material treatment and decontamination
Laboratory testing and formulation of materials for secondary material classification (NHSM)
Certification for product recycling
Veolia's commitment to a circular economy and ecological transformation helps organizations achieve sustainability goals and economic growth with minimum disruption to operations and significant benefit to the environment.

Veolia is uniquely positioned to service industry, government and commercial entities in improving performance, managing water, waste and energy.
Learn how