The challenge as we see it
Utilities generation, distribution and management play an integral role in the efficient operation of industrial facilities. However, with an increased focus on core competencies in manufacturing, companies are leaving fewer resources to focus on the utilities required to support them. This is a critical issue as plant utilities must perform consistently and reliably to avoid downtime and lost production. Having an experienced third-party provider that can deliver central utility services (CUS) can help facility owners and operators avoid these scenarios, and allow them to spend time on what matters most -- core business operations. 
---
Our differentiated value 
As a global expert in managing water, waste and energy resources, Veolia understands the complex demands on a facility's central utilities. Our expertise eliminates the need for a company to dedicate its own resources to operate and maintain critical utility infrastructure.
Central utility services are best delivered through performance agreements, which means services are provided as required by the customer to meet demand, quality and availability levels of utilities. This approach offers a number of advantages to facility operators by allowing them to:
 
Focus financial and manpower on core production
Improve plant efficiency, performance and reliability
Offload responsibility and risk to a third party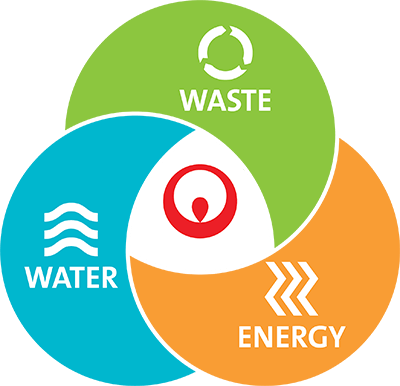 Veolia is uniquely positioned to service industry, government and commercial entities in improving performance, managing water, waste and energy.
Veolia's culture is rooted in the philosophy that we are all obligated to protect one another. Each employee is committed to Goal Zero, our organization-wide commitment to strive for zero work-related injuries or illnesses.
---
Our solutions for central utilities

With a consistent drive to improve performance and reduce cost, Veolia supports manufacturers by providing project execution and operations and maintenance services for water, waste and energy. Our services are offered individually or as an integrated package.
Our core competencies include:
Thermal and cooling units - Whether for environmental control or process cooling, our expertise spans a broad range of equipment and applications, from cooling towers and ultra-cold chilling systems to energy recovery units.
Water systems - We possess the capability to design, build, operate and maintain systems across the entire water cycle with a portfolio of 350+ technologies.
Electric utilities - Our services for the full range of electrical installations include legacy and modern systems, as well as low- and high-voltage distribution infrastructure.
Heating, ventilation and air conditioning (HVAC) - By adopting an integrated view of the energy and cost balance within HVAC systems, Veolia has been able to substantially reduce the overall cost of use on clients' sites, while improving comfort levels and working conditions for staff.
Waste-related services - Tailored, industry-specific services minimize waste and maximize the potential benefit of rational waste strategies, such as reduction, reuse and recycling through direct means or transformation through recovery or incineration.
For over 15 years, Veolia has delivered high-quality utility services at industrial parks and has expertise in managing solutions for shared infrastructure, environmental and energy services
---
Benefits for our customers
Improved efficiency & reliability
Our cost-effective energy solutions are focused on efficiency, resiliency and sustainability.
Our waste and regeneration solutions are compliant with strict regulations, cost-effective and focused on environmental management.
We provide our customers clean, safe and resilient water and wastewater operations worldwide.