Organizations operating today risk exposure to the virus from COVID-19 positive and asymptomatic employees.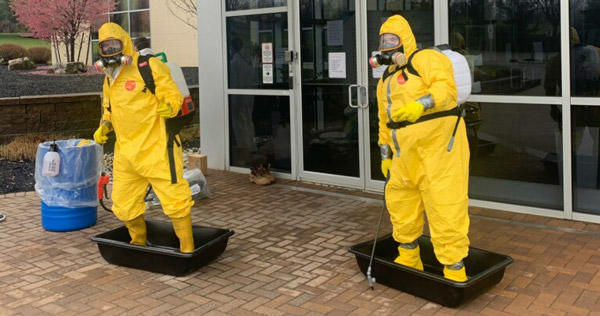 The challenge as we see it
The ongoing pandemic brings many challenges to essential businesses. To ensure business continuity, employee health and safety is paramount and must be protected. If there is potential contamination from an employee who may have been sick, or if the case is confirmed as positive, organizations need to act to protect all employees. This raises the need for disinfection and decontamination of affected areas.
Our differentiated value
Decontamination is an important step to minimize the spread of COVID-19 and its risk to your employees. Veolia will dispatch our disinfection specialists to your facilities to treat appropriate surfaces either as preventative disinfection or decontamination. All work is done in accordance with the procedures and products recommended by the CDC to provide you with a quality outcome. Any untreatable materials are collected, along with decontamination supplies, and managed as required by their characterization.
Our solutions for decontamination services
Working with you, we will create a plan suitable for your unique situation. Our decontamination methods comply with all applicable regulations. We use the proper equipment and apply the correct techniques to complete the decontamination process as quickly as possible.
Disinfection can be used if there is no confirmed presence of the virus
Decontamination services focused on killing the virus
Medical waste management for any waste classified as regulated medical waste
Emergency response services
Hazardous waste services
Getting back to work consultation and tools

Veolia is uniquely positioned to service industry, government and commercial entities in improving performance, managing water, waste and energy.
Learn how