In 2021, The EPA identified more than 120,000 facilities in the United States: industrial and municipal, that may expose people to different types of PFAS.
What are PFAS?
Per- and polyfluoroalkyl substances (PFAS) are a family of more than 4,700 man-made chemicals. Their specific chemical properties have made them commonly used in manufacturing and industrial applications such as: firefighting foam also known as AFFF, cleaning products, non-stick cookware, and water-resistant clothing.
What are the effects of PFAS on the environment and health?
These are chemicals that are found almost everywhere in the environment and some of them have been linked to health problems in humans and animals. According to the CDC, a large number of studies have examined possible relationships between exposure to certain PFAS and harmful health results in humans.
Our complete A to Z solution for PFOA and PFOS
From securing available funds, managing PFOA and PFOS treatment in contaminated water, waste treatment through incineration, or other safe disposal options, our six-step approach offers tailor-made solutions to maximize your efficiency and water and waste management.
Step 1:
Administer sample plan development, training, sampling, and testing via for ground, surface water, or wastewater.
Step 2:
Evaluate water characteristics and potential treatment challenges within state/local policy. Deliver temporary/emergency solutions or full scale treatment.
Step 3:
Conduct lab trials or pilot testing in the field to evaluate pretreatment needs and best fit technologies (e.g., active carbon, ion exchange, reverse osmosis, foam fractionation).
Step 4:
Select process technology and sizing for your chemical destruction in a safe, environmentally friendly manner, while minimizing life cycle cost (including operations and maintenance expenses, such as media change out optimization and disposal costs).
Step 5:
Capital program management services with a turnkey solution that includes construction and operations and maintenance pricing.
Are PFAS regulated in the United States?
Drinking water regulations
At the federal level, the Environmental Protection Agency (EPA) has established non-enforceable health advisories of 0.004 parts per trillion (ppt) for PFOA, 0.02 ppt for PFOS, 10 ppt for GenX chemicals, and 2,000 ppt for PFBS for drinking water.
At the state level, multiple states have developed their own enforceable standards for drinking water that vary. As of February 2023, there are maximum contaminant levels in nine states:
Maine
Massachusetts
Michigan
New Hampshire
New Jersey
New York
Pennsylvania
Rhode Island
Vermont
A number of other states have established PFAS notification levels, which are not enforceable limits, but do require notification to drinking water consumers when those levels are exceeded.
Wastewater regulations
At the moment, there are no federal regulations limiting PFAS in wastewater. The EPA is proposing monitoring requirements to reduce PFAS discharge in stormwater and wastewater. The EPA will also be initiating three new rulemaking revisals to effluent limitations guidelines and pretreatment standards for:
Organic Chemicals, Plastics and Synthetic Fibers category to address PFAS discharges from facilities manufacturing PFAS
Metal Finishing category to address PFAS discharges from chromium electroplating facilities
Meat and Poultry Products category to address nutrient discharges
Hazardous waste regulations
The EPA has proposed to designate two types of PFAS: PFOA and PFOS as hazardous substances under the Comprehensive Environmental Response, Compensation, and Liability Act (CERCLA), also known as Superfund. If certain PFAS are classified as hazardous under CERCLA, then responsible parties could be fully liable for the remediation and recovery efforts for sites contaminated with those PFAS, which would affect a large range of industries
What are the available funds?
In 2021, The U.S. government unveiled a nationwide multi-agency plan to reduce PFAS pollution. As part of this plan, the EPA released a comprehensive strategy outlining deadlines and concrete actions that municipalities will have to follow. Over the next three years, these actions include steps to control PFAS at its sources, hold polluters accountable, ensure science-based decision making, and address the impacts on disadvantaged communities. The U.S. Government allocated $23.4 billion for the bipartisan Drinking Water and Wastewater Infrastructure Act, $10 billion of which will address PFAS. The $10 billion is divided into three categories:
$1 billion for the PFAS

Clean Water State Revolving Fund

(CWSRF)
$5 billion for the PFAS

Small & Disadvantaged Fund

$4 billion to the

Drinking Water State Revolving Fund

(DWSRF)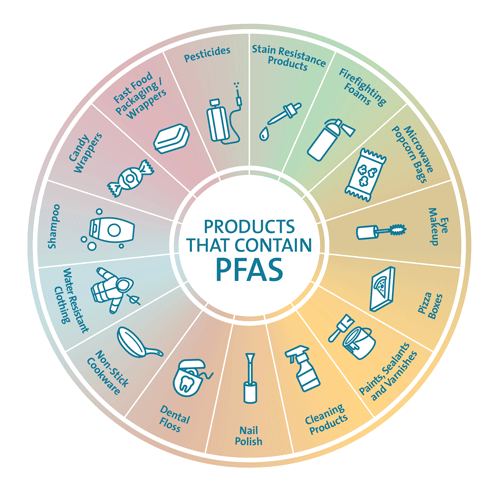 Your PFAS management options
We provide treatment of PFOA and PFOS to both municipal and industrial customers including municipal drinking water facilities, military sites, airports, refineries, manufacturers, and more.
Our PFAS treatment solution for municipal drinking water customers
We use the most adaptive technologies on the market to treat municipal drinking water facilities. While regulations continue to develop and vary by state, we work closely with federal and state regulators as well as your facility to help you meet and maintain compliance for drinking water standards.
Our PFAS treatment solution for industrial customers
Veolia partners with our industrial customers to use available technologies to treat and remediate contaminated wastewater onsite. We closely monitor government regulations and the EPA's Strategic Roadmap for the compliance of your sites with new and or changing regulations.
Our waste management solution
We work with industrial and municipal customers to offer disposal methods for the waste through incineration at our facility in Port Arthur, Texas.
For answers to more frequently asked questions on PFAS, visit our FAQ page here.
The information contained in this statement is based on the Veolia group's understanding and know-how of the scientific and technical fields discussed herein as of the time of publication. Statements that may be interpreted as predictive of future outcomes or performance should not be considered guarantees of such, but rather reasoned assessments of the possible evolution of the technologies described. As this document is based on the state of the Veolia group's scientific, technical, and regulatory knowledge at the time of its publication, the completeness and accuracy of the information contained herein cannot be guaranteed. Descriptions contained herein apply exclusively to those examples and/or to the general situations specifically referenced, and in no event should be considered to apply to specific scenarios without prior review and validation.