The Veolia York, PA team recently received notice from the U.S. Occupational Safety and Health Administration (OSHA) that they have been recertified as a "Star" project under the Voluntary Protection Program (VPP), which is designated to job sites that voluntarily meet or exceed federal safety standards.
The recognition marks the third time the York location has been recertified as a "Star" program after originally receiving the designation in 2009. To earn it, the team underwent a rigorous two-day inspection in June by OSHA representatives who evaluated the project on a range of categories, including its training and safety policies and practices and its overall cleanliness. 
They ended up passing with flying colors, exceeding standards in all categories.
"Congratulations to everyone on our team at York. This recognition is richly deserved," said Bob Cappadona, President and CEO of Veolia's Environmental Solutions and Services division. "Our top priority as a business must always be to put the safety of our people first and make sure everyone is able to go home safely at the end of the day. I'm proud of the York team for making safety more than just a buzzword, but a deeply ingrained philosophy of how they go about their jobs. Thank you!"
The York team manages a 10-day waste collection and field services center that covers a broad geographical area in the mid-Atlantic region.
Kevin Schmied, who is the EHS Manager for the York site, said the team takes pride in a deeply-rooted safety culture.
"They don't just talk the talk, they walk the walk," he said. "They are always looking out for possible safety issues and proactively addressing them, and they do it voluntarily. Honestly, it makes my job very easy."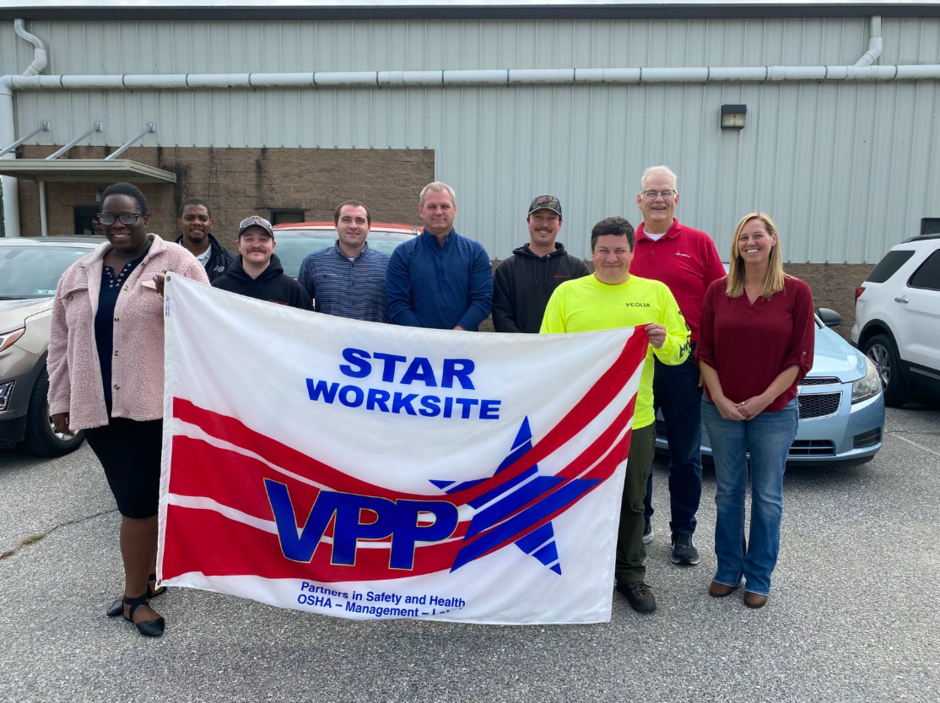 Shown here are York team members and Environmental Solutions and Service safety leaders. From left to right: Lakreshia Jamison, Sean Holmes, Donovan Stoltzfus, Chris Fleischmann, John Dyer, Brian Royer, Shane Kuhn, Dave Flood and Cathy Richards.
Not pictured in the photo are team members Tom Slanker, Sherlina Love, Kevin Surgeoner, Kevin Schmied, Victor Young and Sean Dennison.