Veolia Mooresville, NC recognized for their commitment to health and safety, recertifying their "Carolina Star" safety designation from Josh Dobson, the state's Commissioner of Labor.
The "Star" designation falls under the broader umbrella of the U.S. Occupational Safety and Health Administration's Voluntary Protection Program (VPP), in which employers agree to meet or exceed federal standards and submit to inspections to demonstrate their commitment to safety. Veolia's collaboration with the VPP program is fully aligned with the company's commitment to safety as one of its four "non-negotiable" foundational pillars.
In North Carolina, Veolia is one of only 150 companies, out of more than 270,000, to participate in the Carolina Star program. The recertification is good for another five years before the operation undergoes another inspection. Mooresville is the fourth out of six Environmental Solutions and Services locations in the Mid-Atlantic Branch to receive VPP Star designation, with a fifth expected to be certified soon. Veolia's Environmental Solutions and Services has 12 VPP OSHA Star awards at locations across the U.S. and Puerto Rico.
Commissioner Dobson, who was on hand to help celebrate the recertification at the Mooresville site, praised the team members for their dedication to safety.
"Congratulations to Veolia-Mooresville on their second Carolina Star recertification," he said. "To become a part of the Carolina Star program takes hard work and dedication from so many, and to have multiple recertifications shows just how hard working this team is. I commend you on your diligent work and I hope there are many more of these celebrations in your future."
"I could not be more proud of this tremendous achievement on the part of our team in Mooresville," said Bob Cappadona, President and CEO. of Environmental Solutions and Services. "By actively participating in the VPP program, not only in North Carolina but across our entire business, our outstanding employees show that putting safety first is something deeply ingrained in the way they do their jobs. Congratulations!"
The Mooresville transfer site, which includes 10 employees who manage hazardous chemicals and other wastes, received its first Star designation in 2018, and recently was recertified after passing a rigid inspection by the North Carolina Department of Labor. The team is responsible for transporting and providing solutions for hazardous waste materials for more than 70 customers in markets that cover the Raleigh-Durham area, Charlotte, Asheville and parts of South Carolina. The facility's main feature is a large warehouse where the team keeps hazardous waste materials stored for disposal according to strict regulatory standards. 
The Carolina Star renewal process involved a thorough review of the Mooresville site's operations and safety protocols, including the fire prevention system, hazardous waste storage practices and availability of safety measures like first aid kits. Inspectors also checked to make sure there were no safety hazards such as loose cables or frayed electrical cords. The team ended up receiving a score of 98 percent in the inspection, easily qualifying for recertification. 
The employees who work out of this location include.
Debbie Dunlap — Account Manager

Michelle Rivera — Technical Service Representative

David Lee — Technical Service Representative

Jeremy Remington — Project Manager

Andrew Fisher — Environmental Specialist

Caleb Kimball — Environmental Specialist

Brantley Howerton — Environmental Specialist

Adam Cohen — On-site Project Manager

Sean Ward — Environmental Compliance Supervisor

Dave Flood — Mid-Atlantic Branch General Manager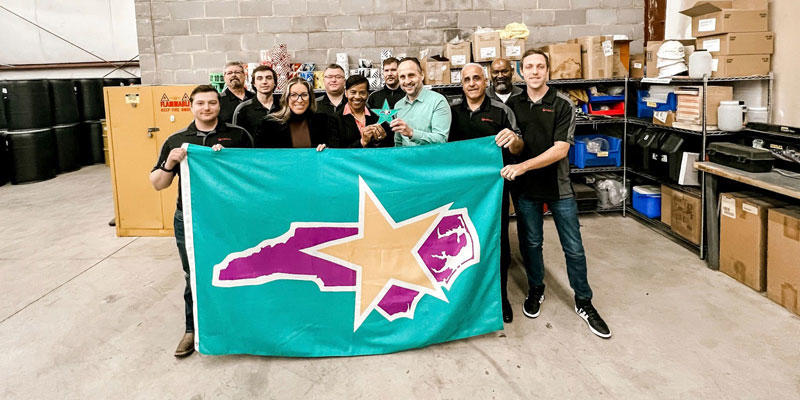 Celebrating the Mooresville team's N.C. Star recertification, from left to right: Caleb Kimball, David Lee, Brantley Howerton, Michelle Rivera, Sean Ward, Debbie Dunlap, Jeremy Remington, North Carolina Commissioner of Labor Josh Dobson, Adam Cohen, Tyron Taylor, Andrew Fisher. Not shown: Dave Flood
Learn more about the Mooresville, NC facility here.