The challenge as we see it
Minimize downtime and maximize process efficiency while controlling costs and protecting workers, these are the goals of plant managers. Key to an efficient and safe operation is timely plant maintenance. This maintenance and cleaning of industrial sites involve a diverse set of skills and attention to detail to ensure safety requirements and regulatory compliance are met. Efficient and reliable services are needed to make sure industrial facilities are running at their highest quality.
---
Our differentiated value 
We have industrial cleaning and maintenance teams dedicated to your sites. These teams are led by experienced supervisors who serve as your primary point of contact for all projects. All of our field employees receive extensive operational, safety and competency training in our core services capabilities and our Touch Free Technologies portfolio. The health and safety of our employees and yours is of foremost consideration in every project, and our goal is to maintain a zero Total Recorded Incident Rate (TRIR).
Assigning dedicated Veolia crews, equipment and leadership to your plant can bring significant value to your organization. 
Some of the benefits include:
Veolia employees assigned to your plant that quickly learn your facility, safety regulations and operating procedures, resulting in less oversight and administrative responsibilities for your own employees
Simplified and more open lines of communications between our supervisors and your plant management teams, so your teams can focus on your core business
More efficient scheduling, safe operational delivery of service and reporting on key performance indicators and results
Reliable service quality and results
Best practices tracking and implementation, particularly among multi-site contracts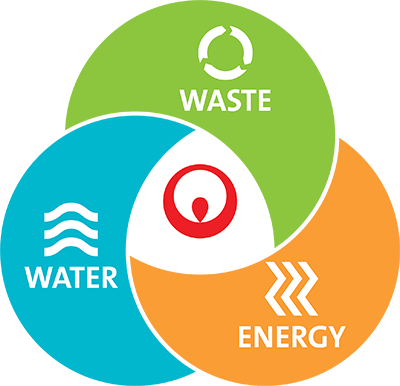 Veolia is uniquely positioned to service industry, government and commercial entities in improving performance, managing water, waste and energy.
Veolia's Goal Zero safety program encourages a leading indicator approach to identifying hazards before they happen. Our safety ratings have improved 35% over the last two years.
 
---
Our solutions for industrial cleaning
One solution is staffing our personnel on your site.  This site-based industrial cleaning solution has Veolia employees reporting each day to our customer's site and performs routine and turnaround cleaning and maintenance work. We have a long history of working safely, documenting best practices and standard operating procedures, and driving continuous improvement against established Key Performance Indicators (KPIs). At many customer sites, we utilize a database management system to drive efficient, safe and standardized operations that meet or exceed service quality expectations.
We will work with you and your team to find a customized industrial cleaning solution that fits your organization's specific needs.
This includes our many services, such as:
Chemical Cleaning
Hydroblasting
Solids Separation
Tank Cleaning
Vacuum Truck Services
For sites with a diverse scope of our solutions, we have site-based teams that work together and are often unified under one site manager.
 
---
Benefits for our customers
Experienced team of Veolia employees on-site
Safe, efficient cleaning solutions
Standard to meet regulatory compliance
Focus Innovation
Safety is a priority at our Canada industrial cleaning sites
Veolia has created the "Safety Metrics and Report Trending (SMART) Observation Process" to measure safe and at-risk behaviors and conditions. SMART tracks leading indicators for safe and at-risk behaviors in seven areas: Personal protective equipment (PPE) usage; Use of required safety equipment and devices; Housekeeping; Ergonomics; Adherence to policies and procedures; Employee acts; and Proper use of tools and equipment.
Our cost-effective energy solutions are focused on efficiency, resiliency and sustainability.
Our waste and regeneration solutions are compliant with strict regulations, cost-effective and focused on environmental management.
We provide our customers clean, safe and resilient water and wastewater operations worldwide.